How integrity, soul, surprise and delight can reach the upscale consumer.
Alessandro Gualtieri is the type of perfumer-or nose, as industry insiders like to say-whose overall contributions to the fragrance world are better known than the man himself. While the Italian-based Gualtieri has devised scents, behind-the-scenes, for big fashion houses like Valentino, Versace, Fendi and Diesel, his most recent flight of fragrances-the Nasomatto Project-is his alone. The collection, which retails at $148 per 30mL at stores like Barneys New York in the United States, aims to turn traditional fragrance on its head, with names like Absinthe and Black Afango, the latter evoking a deep, woody incense. Gualtieri is purposefully hazy about the actual notes represented in each of the six scents. Instead, he uses vague descriptors, explaining that Narcotic Venus is the "result of a quest for the overwhelming addictive intensity of female sexual power," and that Duro "aims to enhance all the manifestations of male strength."
But even if consumers are not intrigued by the personalities Gualtieri has created for each juice, the physical shape and materials of the bottles themselves will draw them. Each clear, nail polish-esque glass bottle is capped with a piece of carved wood; the men's fragrance toppers are squared off and the women's are rounded. The most distinctive, to be sure, is the Black Afango's lacquered ebony stopper. It perfectly matches the fragrance's inky black color. Each container evokes an organic, earthy feeling reflective of modern design.
Hamburg, Germany-based designer Alexa Lixfeld takes Gualtieri's idea one step further with her three eau de parfums, which are priced at about $150 for 30 mL. (They are not yet available in U.S. stores.) While the notes in her scents are delicate floral, woods or citruses-including lily of the valley, sandalwood and bergamot-her fragrance closures are made of cement in three slightly different shades. Lixfeld-who also sells dolls, porcelain dinnerware and concrete bowls-says her inspiration for the fragrance is the juxtaposition between delicate scent and rough concrete.
Indeed, the word "organic" is tossed around frequently these days, particularly in the world of luxury packaging. Whether it's a sustainable container that proves useful beyond its original intent, or transparent secondary packaging that immediately reveals the product's core use to the consumer, "down to earth" is in. That means overly-tooled, "highfalutin" packaging is out. As high-net worth consumers continue to cut back on discretionary purchases, it's more important than ever for marketers to communicate the meaning of a brand through its packaging.
Consider what Burt Tansky, CEO of the Dallas-based Neiman Marcus Group, which includes upscale department stores Neiman Marcus and Bergdorf Goodman, said in a conference call with analysts in December 2009. Forecasting that the "challenging economic and retail environment" for luxury brands was likely to go on for "an extended period of time," Tansky said customers continue to make "measured and deliberate" purchases on the high-end because of economic uncertainty.
He's not alone in seeing that change. "The new consumer wants to be reminded of traditional values," says Michele Sawyer, founder and creative director of New York package design firm Sawyer Design Visions, whose clients have included Bliss, Estée Lauder and Bobbi Brown. "But at the same time, they're scrutinizing everything. They want there to be a story behind every product."
Many brands have already grasped this notion. For example, to introduce his new off-the-shelf collection of scents, Paris-based bespoke perfumer Francis Kurkdjian focused on utility, creating a fragrance-infused bracelet as well as a children's scent that is diffused by blowing bubbles through a wand. While children's scents have been looked down upon in the past, Kurkdjian's playful approach makes it more age-appropriate. Each bottle of scented bubbles-available in herbs, cold mint and pear varieties-is priced at $20 and sold at Bergdorf Goodman in the United States.
"This is an example of bringing creative interpretation to traditional values," says Sawyer Design Vision's Michele Sawyer. The designer says that finding a secondary purpose for packaging is also important. She recently created a package for a men's wallet that could be reused as a box to store cuff links. "It emphasizes value," she explains.
Matthew Waldman, chief creative officer and president of Nooka, a modern watch brand that also sells apparel and fragrances for men, seconds Sawyer's notion. "Personally, I strive to produce packaging that has other uses," says the artist and designer. (He also taught packaging courses at Parson's School of Design in New York.) "Almost all Nooka packaging doubles as pen and knickknack boxes in my studio."
However, a clever story is not always enough for today's consumers. Often, they're most-concerned about a product's environmental impact. Yes, high-end brands see the environment and social consciousness as purchase-drivers. That's evident in luxury conglomerate Moet Hennessy Louis Vuitton's May 2009 investment in the Edun fashion label, a brand--started by U2's Bono and his wife Ali Hewson--that aims to produce every piece of its collection ethically and with a social conscious.
In luxury packaging, such goals are no longer simply about using recycled materials. The item, even though it represents consumption, must aim to reduce the consumer's overall consumption. "An eco-friendly or recycled material may make you feel good, but if the brand has to have that material shipped from Germany to a factory in China, any benefit to the environment is now gone from all that shipping," explains Waldman. "It is very possible that a locally procured plastic has a lower carbon footprint than a perceived eco-material."
Cost is also a major problem when it comes to sustainable materials: Many brands, even top-end brands, simply can't afford it in this economy. "It is this pricing differential that will keep sustainable packaging from replacing non-sustainable papers," says Patricia Pao, founder of The Pao Principle, a New York-based strategy consultancy that specializes in the fashion, luxury and beauty industries. Before establishing her own firm in 2006, Pao was employed by heavy hitters like LVMH, Elizabeth Arden and David's Bridal. "Companies are actually producing 'look of' sustainable packaging," she explains. "One of my clients really wanted to use a paper that could be replanted in the earth. However, the expense of this paper was prohibitive. He ended up using a 'look of' paper that was non-sustainable but gave off the same look and feel."
While each brand must decide whether this is the right approach, there are also considerations for brands that can afford sustainable and locally-produced materials. The idea of "adding value" to the item, for instance. A good example is Boulder-Colorado-based Pangea Organics, whose skincare products have sold well over the last two holiday seasons, sparking the aforementioned trend of plantable packaging. Nearly every one of the brand's holiday gift sets is packaged in a molded pulp carton made of 100 percent post-consumer newsprint embedded with the seeds of a plant. The packaging on the brand's New Radiance gift set, priced at $100 and available at stockists nationwide, is embedded with the seeds of a pine tree. What's more, the newsprint-because it's been created without any glues or dyes-will decompose entirely in the ground. Other brands, including cosmetics line Cargo and organic soap maker Green Ore, have introduced similar packaging.
While plantable packaging is a novel idea, it doesn't address a greater problem, at least when it comes to Pangea's gift sets and Cargo's lipstick cartons. The cases and bottles in which the actual product is stored are not entirely biodegradable. Yet they're entirely necessary.
Sure, there are ways to minimize the impact. Sawyer, the veteran designer, says one company she's currently working with wants to market its soap with no packaging whatsoever.
While that approach is a big risk for a company with little or no experience in the market-a consumer can't connect with a brand if it's never been introduced to them visually-it can work for bigger, better-established companies.
Consider Apple, whose creative branding has only improved since the introduction of the candy-colored iMac in 1998. Today, one of the company's latest products, though small, sends a big marketing message. The Magic Mouse-a wireless, multi-touch mouse that is powered by a battery and Bluetooth technology, $69-comes in a clear plastic case with absolutely no accouterments. It's as close to non-existent packaging that Apple could get without exposing the product to physical damage.
While not as ambitious, packaging for LVMH's Champagne brand Veuve Cliquot has also been streamlined. The DesignBox, introduced in April 2009, is made only of paperboard, making it easier to recycle. There are no coatings on the carton and, because the paperboard was milled with a micro-grooving machine, less material was needed to create it. What's more, inks, glues and solvents represent less than five percent of the weight of the total product.
These are impressive moves for big-name brands like Apple and Cliquot. But wildly-simplified design and production ideas can't work for everyone, particularly young companies. "Apple has a brand. You go into the store knowing plenty about them," says Sawyer. "But my soap people, they don't have a brand. How do you communicate a brand without packaging?"
Dorset Cereals, a breakfast food brand based in Poundbury Village in the English county of Dorset, successfully launched a range of high-end granolas, mueslis and porridges (which retail for $8 to $10 per box) in 2007 with an unforgettable box design that combines transparency and visual branding. While the cartons are colorful and feature a signature typeface that looks modern and upscale, there are die-cut leaves on each package that allow consumers to peer through the box and really see what they are getting. This gives Dorset high marks for authenticity and attractiveness in the eyes of the consumer.
But whatever psychological messages you try to convey through your packaging, Pao, the luxury consultant, says that in the end, anything that's innovative and outspoken will grab the consumer's attention. "Packaging that's fun will generate excitement and interest," she says.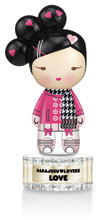 Consider singer Gwen Stefani's Harajuku Lovers perfumes, introduced in September 2008 by Coty's prestige perfume department. Each fragrance, priced at $45 for 28 mL, is in the shape of a Harajuku girl, the name given to Japanese teens obsessed with Kawaii (cute) fashion. While it may come off as a somewhat childish-not luxurious-concept, the perfume collection has become a hit among adults, even selling out during its first holiday season. Stefani, remember, turned 40 in 2009. Each scent-Love (traditional floral), Lil' Angel (citrus) Music (fruity floral), Baby (white floral) and G (woody oriental)-was created to represent an aspect of Tokyo's Harajuku district fashion culture.
Since then, Stefani has introduced a set of solid perfumes and, for the 2009/2010 winter season, a limited Snow Bunnies collection featuring the same Harajuku girls (read: same fragrances) but dressed in cold weather gear. Pao cites the Harajuku Lovers as one of her favorite packaging concepts to emerge over the last two years.
So, when it comes down to it, while the luxury consumer desires integrity and soulfulness more than ever in her products, she still wants to be entertained. Because, after all, luxury will always be about surprise and delight.
BP
Lauren Sherman is a Brooklyn-based writer covering the fashion and luxury industries. After four years at Forbes covering the business of retail and apparel, she now serves as editor of Fashionista.com.