With the current state of the world economy, it's natural to question whether our dedication to green products and packaging will remain strong. Though the finding of a recent Boston Consulting Group study that more consumers purchased green products in '08 over '07 should be encouraging to brands that have embraced sustainability. In the eyes of consumers, green, it seems, is still good business. So keep innovating and take inspiration from our look at some of the more interesting concepts to come out this past year.
> Welcome
Welcome to our first SUSTAINABLE PACKAGING DESIGN GALLERY and what we hope will be a source of inspiration for you. Our intent is not to identify perfectly sustainable packages (do they even exist?), but, rather, packages that have creatively addressed their impact on the environment.
No, the solutions aren't flawless; it's clear that eco-friendly packaging is more about trial and error and give and take than a direct one-time act. Instead, our selections reveal the myriad deliberations that go into sustainability and, in keeping with our mission, they demonstrate how environmentalism can still address the marketing considerations of a brand.
So consider this a marker on the path to sustainability---a reflection of the decisions brands are making at this point in time. Our expectation is that, next year, we'll see demonstrated progress, and that the packages we'll be showcasing will reveal ideas and concepts that we have yet to imagine. Until then, read on. Consider these solutions. Share your own. And, by all means, don't let the economy deter you---keep pushing and stake your own flag on the road to being (more) green.
Back to Nature Seed and Herb Crackers > Kraft
With a mission of "bringing back the uncomplicated joy of food," Kraft's Back to Nature line focuses on delicious, simple foods without artificial flavors or preservatives, hydrogenated oils or high fructose corn syrup. As part of that commitment, the brand has undertaken a significant effort to make its packaging more sustainable, beginning with these seed and herb crackers. > Cartons are made from 100 percent paperboard, with at least 55 percent comprised of post-consumer recycled material. Packaging is printed with inks derived from renewable resources such as soy, flax and tree nuts. Even the carton manufacturing facility reuses and recycles more than 95 percent of the solid wastes from the process. > Graphic design supports the brand promise as well, with a generous band of earth-tone color identifying each of the three varieties: mustard yellow for Sunflower Basil, olive green for Poppy Thyme and a lighter green for Sesame Tarragon. An elegant die-cut window in the shape of a leaf gives consumers a peek at the savory crackers inside. [Graphic design: Davis Design; Paperboard and package printing: Rock Tenn Company]

Sustainability criteria:
Recycled/Renewable Materials; Compostable/Recyclable Package; Resource/Energy Optimization 
Sharpie 10-Count Club Store Pack > Newell Rubbermaid Office Products
When Newell Rubbermaid set out to redesign the club store packaging for its Sharpie Retractable 10-count marker pack, creating a more sustainable package was among the brand owner's goals. > Previously packaged in a mock-clamshell, the ubiquitous markers can now be found in a paperboard-based pack that resulted in a 60 percent reduction in plastic. The streamlined paperboard package is made from a renewable resource, is recyclable and offers the brand expanded real estate for graphic communication. The Sharpie packs currently can be found in Sam's Club stores. [Paperboard packaging: Natralock by MeadWestVaco]
Sustainability Criteria:
Recycled/Renewable Materials; Compostable/Recyclable Package: Source Reduced/Lightweighted 
Limited-Edition Vintage Clove Shampoo > Aveda
The majority of plastic bottle caps don't get recycled. Because they're often made of a different resin than the bottles they're attached to, they require a more energy- and labor-intensive recycling method, which dissuades material processors. > But personal care brand Aveda hasn't accepted those limitations. Long known for its environmental leadership, the company launched its own caps recycling program and demonstrated early success with the September 2008 debut of its limited-edition Vintage Clove Shampoo. > The product boasts the beauty industry's first 100 percent post-consumer recycled cap, and also celebrates the brand's 30th anniversary with a structure and graphics that replicate the original offering (the bottle itself is 96 percent post-consumer recycled HDPE). > Aveda enlisted its U.S. network of salons and stores, along with schools nationwide, to seed the initiative and collect water, soda, detergent and shampoo polypropylene bottle closures-with 75,000 pounds of plastic amassed to date. > And while the Vintage Clove Shampoo will only be on the market "until supplies last," Aveda says it's exploring options for using the recycled caps on other products as well.
Sustainability Criteria:
Recycled/Renewable Materials; Compostable/Recyclable Package; Consumer Education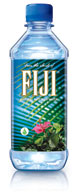 Carbon Negative Initiative > Fiji Water Company
Bottled water has long drawn the ire of the environmentally conscious, but many brands in the category are working hard to change that perception-and to make a positive impact on their ecological footprint in the process.
>
Fiji Water has partnered with Conservation International to become the first "carbon negative" (offsets exceed emissions) product in the industry. Part of that strategy includes a pledge to reduce the amount of packaging used by at least 20 percent by 2010.
>
Packaging also plays a powerful role in communicating a green message to consumers. Fiji Water has devoted its back panel label to announcing the initiative and driving consumers to a dedicated microsite (
www.fijigreen.com
) for more information and updates on the brand's progress.

Sustainability Criteria:
Compostable/Recyclable Package; Resource/Energy Optimization; Consumer Education

USDA Organic Shea Creams > Organic Essence
Body care brand Organic Essence prides itself on being green inside and out. Products are created from naturally occurring ingredients-no synthetic preservatives, fragrances, detergents or petrochemicals are used-and are certified USDA Organic. > Packaging is equally aligned with the company's commitment to the environment. The brand partnered with a paper tube company to develop the "eco jar", a biodegradable container that breaks down completely in normal backyard compost conditions. > Printed with pure soy ink on Forest Stewardship Council-certified, 100 percent post-consumer waste paper, the jar is able to withstand 150 degree temperatures during shipping without leakage and is grease-resistant. A biodegradable label is applied with an organic adhesive and glaze, so there's no need to remove it for composting. [Eco pak container: Chicago Paper Tube & Can Company; Biodegradable adhesive & label: Organic Essence; Label printing: GSL Fine Lithographers]
Sustainability Criteria:
Recycled/Renewable Materials; Compostable/Recyclable Package

Cadbury Treasure Eggs > Cadbury Schweppes
Sometimes the best ideas are the most simple. As part of the company's Purple Goes Green climate change commitment, Cadbury has unveiled a range of "eco-eggs" in the U.K., which, rather than being sold in a box, are simply wrapped in foil. The Treasure Eggs represent a reduction of more than 75 percent of the plastic and 65 percent of the paperboard previously used. > This past Easter, the amount of plastic used is estimated to have been reduced by 247 tons and paperboard by more than 115 tons, with a total savings of 1,130 tons of packaging. > The reductions in waste are part of the brand's overall response to the challenge of climate change. Under its environmental strategy, the company has pledged to cut its net carbon emissions by 50 percent by 2020; reducing packaging is a significant factor in achieving this goal.
Sustainability Criteria:
Compostable/Recyclable Package; Source Reduced/Lightweighted; Consumer Education
Pavilion dv6929 Entertainment Notebook > HP
When Wal-Mart challenged consumer electronics manufacturers to reduce the environmental impact of their personal computers, HP responded with a concept that trimmed the amount of packaging consumers need to discard by 97 percent. > The limited-edition HP Pavilion dv6929 Entertainment Notebook replaces the paperboard, polystyrene and plastic of conventional electronics packaging with a reusable messenger bag made from 100 percent recycled materials. The notebook is displayed on shelf in just the bag, with the product and accessories inside. > In addition to removing the package disposal burden from consumers, HP reduced its own by fitting three messenger bags in an overbox for shipping to retailers. Figuring in the master carton, the packaging waste reduction is a still-enviable 65 percent. The concept also conserves fuel and reduces CO2 emissions by removing one out of every four trucks previously needed to deliver notebooks to Wal-Mart and Sam's Club stores. > Randy Boeller, a package engineering manager with HP, says the company is investigating the concept for application in other consumer products lines and on the business and the commercial side as well. [Design, testing and production work: Uneka Concepts; Messenger bag fabric: Repreve by Unifi Inc.]
Sustainability Criteria:
Recycled/Renewable Materials; Reusable/Refillable Format; Source Reduced/Lightweighted; Resource/Energy Optimization

Organic skincare line > Organicare
Because it was launching in the luxury retail channel, Organicare knew its packaging had to have style. But the brand was debuting as the first skincare line to be USDA Organic certified, so it was wary of selling out its earth-friendly ideals. The solution was to develop packaging that positioned the fledgling brand as a guilt-free indulgence, communicating what the company describes as "eco chic".  > To do so, the packaging is made using wind and hydro power in carbon-neutral facilities, and from paperboard made of 80 percent post-consumer waste that's Forest Stewardship Council-certified-a guarantee that the fiber was responsibly sourced from its point of origin in a certified recycling center or a managed forest. > A triple-embossed flower graphic on each carton is highlighted with a proprietary pearlized coating that grabs attention at high-end cosmetics counters where the brand is sold. Contrasting with the texture of the recycled paperboard, the overall design conveys the brand's environmental stewardship in packaging and its aspirational luxury position at the same time. [Cartons: Curtis Packaging; Paperboard: Envi 80 by Monadnock; Package design and illustration: Willoughby Design]
Sustainability Criteria:
Recycled/Renewable Materials; Compostable/Recyclable Package; Resource/Energy Optimization

Sainsbury's milk > Sainsbury's
Though it may be some time before the phrase, "Pick up a bag of milk and a loaf of bread on your way home," becomes the norm, U.K. retailer Sainsbury's is still betting that a revolutionary new milk packaging system will be a hit with green consumers. > The JUGIT concept is comprised of a recyclable pouch that fits into a specially designed reusable jug. The bags are made from a low density plastic material specifically tested for strength and durability. After the pouch is dropped into the jug and the main body of the lid closed-trapping the top of the bag using secure clips-a spike attachment on the inside of the lid punctures the pouch and forms a no-leak seal. A recloseable spout then flips open for pouring. > The system has the potential to reduce packaging waste by 75 percent. Sainsbury's is reportedly considering using the bags for its own-brand juice and is also examining alternatives to the wine box, using the same packaging technology. [JUGIT concept: Dairy Crest; Injection-molded jug: RPC Group]
Sustainability Criteria:
Compostable/Recyclable Package; Reusable/Refillable Format; Source Reduced/Lightweighted
SO Organic Wild Rocket salad > Sainsbury's
U.K. retailer Sainsbury's introduced its SO Organic Wild Rocket salad in non-genetically modified, compostable film in select stores last year. The package was developed in response to shopper requests for such products and the retailer's own goals for sustainability-and it was developed without compromising the product's shelf life or the package's performance (particularly the seal). > The unique film is a technical achievement in that it works on moist and damp products like fresh produce and salads; it has industrial compost certification; and it is "progressing well" with home composting testing-achievements that many competitive materials are unable to realize. > Branding is clean and simple, calling out the retailer's SO Organic identity, but letting the fresh greens take center stage. > Sainsbury's reports that 90 percent of its SO Organic produce is now available in recycled, recyclable or compostable packaging. The retailer is working to reduce and recycle its packaging materials overall and, as in the case of this film, to help reduce the amount of packaging customers need to discard after shopping at Sainsbury's. [Compostable film: Amcor Flexibles, Flextrus]
Sustainability Criteria:
Recycled/Renewable Materials; Compostable/Recyclable Package


Retote Shopping Bag > Target and TerraCycle
Reusable shopping bags have been the rage for some time. So when TerraCycle CEO Tom Szaky watched an online video of someone using an iron to fuse plastic bags together, he was inspired to set a new standard for the eco-friendliness of such bags. > He developed a method to mass produce the fused material he saw online and approached Target with it as a way to reuse customer-returned, misprinted or damaged plastic bags. The result is the Target reTote, which uses 30 used plastic bags per tote in a process said to be more energy and cost efficient than traditional plastic bag recycling (which can cost up to $4,000/ton and results in a polymer that's worth just a fraction of that). > The shopping tote debuted with support from Newsweek, which asked readers to use the magazine cover as an envelope to be filled with Target bags and mailed free of charge to TerraCycle (more than 41,000 did so). So far, Szaky has sold 100,000 such bags to Target-reclaiming three million of the more than 100 million plastic bags said to be discarded in the country each year.
Sustainability Criteria:
Recycled/Renewable Materials; Reusable/Refillable Format; Resource/Energy Optimization; Consumer Education

Toys "R" Us Eco-Friendly Toys > Toys "R" Us
The toy industry was burdened by a series of lead paint scares in 2007, but the sector addressed consumer safety concerns with a slew of new products in 2008. Toys "R" Us had one such response, dipping its toes into sustainable packaging with the Earth Day 2008 debut of its own-brand environmentally friendly toy line. > Packaging for the collection of natural wooden toys and cotton plush animals and organic cotton dolls was developed internally and consists of earth-tone paperboard cartons made from 70+ percent recycled material. A special "R" seal-a play on the well-known Toys "R" Us reversed "R" logo-is printed on each box and features a green leaf encircled by the words "Recycle, Renew, Reuse, Rethink" to alert parents to the nontoxic, eco-friendly attributes of the toys. > Toys "R" Us says kids are becoming more environmentally conscious and curious about how they can do their part, and reports that the collection has been received "very favorably" by customers. The retailer also says it plans to expand the green-minded toy collection later this year. 
Sustainability Criteria:
Recycled/Renewable Materials; Compostable/Recyclable Package; Consumer Education
PINK Body > Victoria's Secret
Green and pink go hand in hand with the introduction of Victoria Secret's skin-loving, earth-friendly skin care line PINK body. The everyday body care line uses natural, organic and vegan ingredients to encourage girls to "Think Green. Live Pink!" Products contain no parabens, mineral oil or sulfites and are not tested on animals. > Bottles are a minimum of 80 percent post-consumer-recycled HDPE; two-ounce-sized bottles are 100 percent post-consumer recycled PET. The brand also uses removable adhesive labels, which allow for easier recycling, whenever possible. [Bottles:TricorBraun; Labels: Standwill Packaging Inc.; Creative: Victoria's Secret]
Sustainability Criteria:
Recycled/Renewable Materials; Compostable/Recyclable Package; Consumer Education

Recycled Plastic Conversion > Method
The path to sustainability is almost never direct. When Method transitioned three of its U.S. product lines from virgin PET to 100 percent post-consumer recycled PET last spring, it became the first in the country to do so for household cleaning products. The conversion began with the brand's all purpose cleaning spray, specialty spray and floor cleaner, in various sizes. > It wasn't long before the company found that, because post-consumer resin typically contains some contaminants, the recycled PET was causing discoloration. Undeterred, the brand set out to improve the clarity of the 100 percent recycled plastic bottles. But, rather than go back to virgin material in the interim, it worked a transition into a more suitable form of recycled resin: 100 percent recycled PET made from a post-consumer and post-industrial material mix. > The company is now in the process of converting its fleet of colored and clear PET bottles to the post-industrial/post-consumer blend, including the brand's specialty spray, foaming hand wash, gel hand wash, floor cleaner, all purpose cleaning spray, dish soap and body wash. [Post-industrial/post-consumer recycled PET bottles: Amcor PET packaging]
Sustainability Criteria:
Recycled/Renewable Materials; Compostable/Recyclable Package

The 11th Hour DVD > Warner Brothers Studios
The 11th Hour is a powerful documentary exploring the impact of our lifestyles on the health and future of the planet-its title is a reference to, and warning about, the last moment when change is possible. For its European release on DVD, Warner Brothers was determined that its packaging wouldn't be at odds with the film's strong ecological message. > St. Ives Music & Multimedia chose chipboard made from 100 percent post-consumer waste to give a natural look to the outer case. Instead of the standard plastic tray, designers specified a biodegradable DVD tray made from starch, cellulose and water; the tray can be recycled as paper, or composted to biodegrade. > The biodegradable tray weighs 50 percent less than its plastic counterpart, which saves on transport and mailing costs, but also means the outer case could be upgraded to twice its normal thickness to give the box a more solid structure. All printing was done with vegetable-based inks, and all package components (minus the DVD) are recyclable. [Chipboard: Smurfit Kappa; Biodegradable tray: PaperFoam]
Sustainability Criteria:
Recycled/Renewable Materials; Compostable/Recyclable Package; Source Reduced/Lightweighted

MOTO W233 Renew > Motorola
The MOTO W233 Renew phone is distinguished by a number of "firsts." It's the first mobile phone to be made from recycled water bottles, requiring 20 percent less energy to create the housing compared to standard plastics processing. And, by offsetting the carbon dioxide needed to make, distribute and operate each phone during its lifetime (through renewable energy and reforestation investments), Motorola says the device is also the world's first carbon neutral phone. > In keeping with those green credentials, the company housed the phone in packaging that's been reduced in size by 22 percent (compared to current packaging of Motorola products at T-Mobile) and, as a result, helps minimize transportation emissions. Inside, support materials are printed using vegetable-based inks on 100 percent post-consumer recycled paper; there's also an in-box pre-paid envelope that makes it easy for consumers to return their old mobile phones for recycling at no cost. > The Renew phone targets eco-conscious consumers and hopes to empower them to reduce their own carbon footprint.
Sustainability Criteria:
Recycled/Renewable Materials; Compostable/Recyclable Package; Source Reduced/Lightweighted; Resource/Energy Optimization; Consumer Education
Thirst Quencher Powder Packs > Gatorade
In 1965, a group of University of Florida researchers were asked to determine why so many of the football team's players were affected by heat-related illnesses. The result of their efforts, a new carbohydrate-
electrolyte beverage that replaced key components lost through sweat, is now known around the world as Gatorade, the official sports drink of the NFL. > Recently the brand introduced its Thirst Quencher line in single-serve powder packs that, when mixed with a 16.9oz bottle of water, provide the same benefits as their ready-to-drink counterpart. > The upside for consumers? Convenience: powder packs can be tossed in a gym bag or even stashed in a pocket until the beverage is mixed and consumed. Environmental benefits? A reduction in packaging materials (no plastic bottles) and in the energy required to transport the much heavier RTD bottles. Power packs retail in an 8.4oz pack containing eight 1oz pouches, and are available in lemon-lime, fruit punch and orange flavors.
Sustainability Criteria:
Source Reduced/Lightweighted; Resource/Energy Optimization

Fat Tire Packaging > New Belgium Brewing Company
In the past, any mention of "green" beer would likely bring St. Patrick's Day to mind. But that's changed now that brewers like New Belgium Brewing are making strides toward sustainability. > In keeping with a mission to reduce resource consumption, the brewer recently redesigned its corrugated cardboard 12-pack carriers, consisting of 44 percent recycled content, to tighten the cases. The new design eliminates the need for partitions to separate the bottles and, at current production levels, it eliminates 150 tons of cardboard and prevents 174 metric tons of CO2 emissions each year. > Going forward, New Belgium is working to increase the recycled content of the bottles in the carriers, collaborating with its supplier to do so; and developing a "cleaner" stream of recycled amber glass by partnering with Fort Collins, Colo., to sponsor brown bottle collections from area residents, bars and restaurants. > The focus on glass is based on a life-cycle analysis conducted on a six-pack of the company's flagship Fat Tire amber ale, which revealed glass to be responsible for more than 20 percent of its carbon emissions.
Sustainability Criteria:
Recycled/Renewable Materials; Compostable/Recyclable Package; Source Reduced/Lightweighted; Resource/Energy Optimization; Consumer Education

Soap Bar Wrappers > Burt's Bees
Burt's Bees knew the cartons used to package its soap bars were oversized-by a quarter inch across all dimensions to aid hand packing. But because sustainability has been central to the brand since its start 25 years ago, it wanted to minimize that excess. > It turned to a limestone paper (much of it derived from industrial building waste) that better conforms to the bars, and boasts a reduction in material thickness from 16pt board used for the carton to the 5pt paper wrapper. The material requires less energy to produce than traditional pulp-based papers and, by eliminating excess packaging, allows for transport efficiencies: 2,300 more bars of soap now fit on each shipping pallet. > And there haven't been any tradeoffs in performance. The new wrappers provide tamper, tear and scuff resistance; feature improved barrier properties; offer a better printing surface that requires 20 to 30 percent less ink; and, by eliminating the need for hand packaging, reduce labor costs for the brand. [Mineral-based paper: TerraSkin by Design and Source Productions]
Sustainability Criteria:
Recycled/Renewable Materials; Reusable/Refillable Format; Source Reduced/Lightweighted
360 Vodka > McCormick Distilling
Created out of a philosophy for producing products that are mindful of the earth's resources, 360 Vodka has positioned itself as the world's first "eco luxury" vodka. McCormick applies advanced eco-friendly production processes and has assembled an internal "Green Group" charged with improving environmental performance, increasing operating efficiencies and heightening employee awareness and conservation. > 360 recently introduced the first 100 percent post-consumer recycled
PET container to be used in the liquor industry. The carbon footprint of the bottle is 60 percent lower than virgin PET. Since there is a difference in clarity with PCR, McCormick worked with its bottle supplier to meet tight color specifications for the brand. An HDPE closure replaces the 18mm polypropylene cap the brand normally uses, which is not acceptable with many recycling operations. > The brand's goal is to gradually incorporate at least 25 percent PCR into the balance of its portfolio, but each brand's unique identity will be addressed on a line by line and size by size basis. [PCR bottle: Amcor PET Packaging]
Sustainability Criteria:
Recycled/Renewable Materials; Compostable/Recyclable Package; Source Reduced/Lightweighted