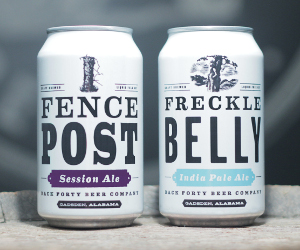 Just in time for summer weather and traveling, Back Forty Beer Co. now offers its Freckle Belly IPA and Fence Post Session Ale varieties in 12oz aluminum cans, rounding out its full line up of year-round canned beers.
The Freckle Belly IPA and Fence Post Session Ale join Back Forty's Naked Pig Pale Ale and award-winning Truck Stop Honey Brown Ale to complete its line of craft beer cans. Back Forty will continue to package its full portfolio of beers in the traditional 12oz and 22oz glass format, making the brand the first Alabama brewery to offer all three options, according to the company.
"To have all four of our year-round beers in cans, most recently canning our Fence Post Session Ale and Freckle Belly IPA, is a huge accomplishment for us as a brewery and an important step in providing our customers with a variety of options to enjoy local craft beer," says Jason Wilson, president and CEO of Back Forty Beer Company. "Now our customers are not limited by bottles, and can take Back Forty beer with them on their summer beach trips or even to outdoor venues such as concert tailgates without compromising their beer quality."
Freckle Belly is a full-bodied India Pale Ale with fresh hops for a powerful blend of citrus, pine and fruit aromas. Fence Post Session Ale, Back Forty's most recent addition to its line of year-round beers, offers a refreshing taste and lower alcohol content making it their lightest beer in the lineup — perfect for enjoying a hot, summer day, says the brand.
Back Forty's partner restaurants, venues and hotels are also able to extend the new lineup of craft beer cans to their guests. "We are excited about the can release of Back Forty's Freckly Belly and Fence Post. Back Forty has been a hit with our Grand Hotel guests, and having their beers now available in cans offer another way for them to enjoy Back Forty beer during their stay," says Michael Herzog, Grand Hotel food and beverage director. "Whether it's on the boat or on the golf course, we look forward to having Back Forty as a part of our guest's experiences."
"Having the support of places like the Grand Hotel has made our decision to can all four of our year long varieties a seamless one and lets us know that we're on the right track in ensuring that no consumer is limited in their Back Forty Beer options," says Wilson. "We're always trying to enhance the Back Forty experience for our consumers, and we can't wait to see what's next."