Robotics and automation are changing the cartoning and case-packing landscape by providing faster packaging, taking up less space, improving workplace safety, and freeing up employees for other tasks.
In the last few years, robots have become smaller, more affordable, and more widely available. Their capabilities have steadily expanded through improvements such as machine vision, end-of-arm tooling technology, artificial intelligence (AI), machine learning, durability, and safety. Robots have also become simpler to both program and operate, reducing the level of technical skill needed for successful deployment. As these capabilities progress, robots are steadily expanding into new applications and even entirely new industries, according to Jorge Izquierdo, vice president, market development for PMMI, Herndon, VA.
Andrew Manly, communications director, AIPIA, says both robotics and AI are having a profound impact on packaging lines. 
"As someone told me many years ago, robots don't need holidays or go off sick," Manly said. "The 'new kid on the block' is AI, which is allowing a whole new generation of production machines from self-diagnostics through machine learning and producing analytics for analysis."
Following is a look at some of the cutting-edge technologies that are revolutionizing cartoning and case packing.
Colbert Packaging Expands Capacity with Eterna Equipment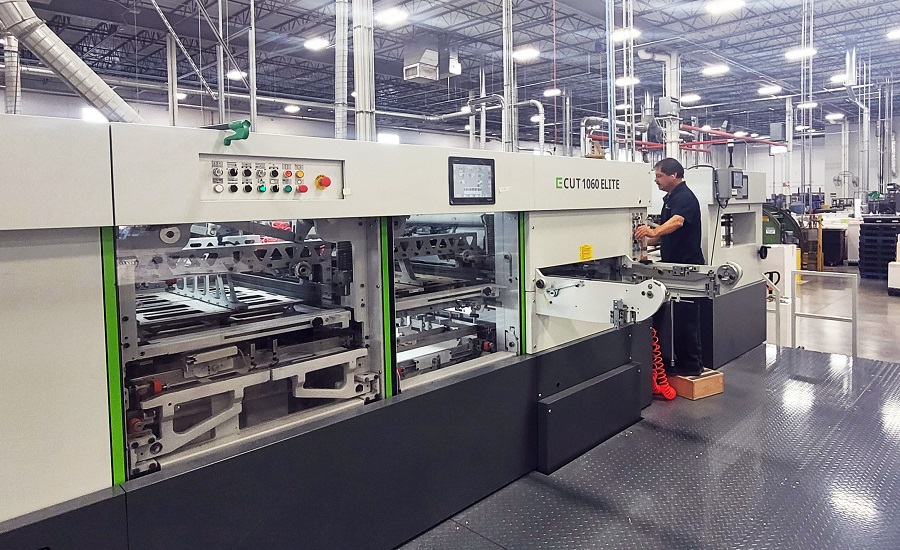 Colbert Packaging Corporation, a manufacturer of custom paperboard folding cartons, labels, and inserts, in January announced the installation of two new Eterna blanking die cutters. 
The Eterna Line ECUT 1060 Elite ER is a welcome addition to Colbert's Kenosha, WI, and Elkhart, IN, production facilities, adding die-cutting capacity to complement recent printing press installations. 
The precision-tight registration of the Elite ER delivers precise cutting, especially critical to the stringent packaging quality requirements of the pharmaceutical and consumer packaged goods industries. As an added benefit, tooling is compatible with Bobst Group Technology, the recognized standard for packaging equipment. 
"We can move jobs easily between our Bobst and Eterna equipment due to the compatibility in the tooling," says Colbert's die-cutting manager, Louis Fadder. "Additional benefits include increased throughput and overall additional capacity with the new Eterna." 
 As mutual members of the Independent Carton Group (ICG), Colbert Packaging and the Brausse Group came together several years ago and forged a partnership. Colbert became the first U.S.-based packaging supplier to implement Brausse (Eterna) equipment with blanking technology. As evidence of successful beta testing through 2015, Colbert invested in a second Brausse die cutter in 2018. January's announcement demonstrates Colbert's continued commitment to this partnership and to satisfying customers' needs by adding capacity through capital investment. 
 "There is great value in the trust that's grown between Colbert Packaging and the Brausse Group over time," said Brausse Group President, Craig MacKenzie. "We are confident that the new Eterna Elite ER will meet and exceed Colbert's demand for high-end, finished folding cartons. As a Bobst Group Company, Eterna manufactures a quality machine able to meet the production needs of a market leader like Colbert."  
 Colbert President John Lackner agrees: "The Brausse Group understands our business and our ongoing pursuit for quality and efficiency improvements. With this increased capacity and ease of operation, these investments align with our long-term strategy and further support our customers' demand for quality products and reduced lead times." 
JLS Automation's Peregrine Cartoning Solution
 The Peregrine is a high-speed, vision-guided robotic top-load cartoning system that offers the highest sanitary standards. With a small footprint one-third the size of traditional top- and end-load cartoners, Peregrine places carton forming, loading, and closing inline so there's no wasted real estate, saving food producers valuable floor space. 
The Peregrine's high-speed JLS TRAK and positive carton transport (PCT) system eliminate problematic handoffs and the need for any other conveyors to move cartons away from the former, to accumulate, or manage the loading process. Cartons are kept in line, without turns—from forming to loading, all the way to robotic closing. 
Cama and Augmented Reality
Cama Group has organized webinars showing how its augmented reality (AR) offerings can be used for both changeover routines and maintenance operations.
"Augmented reality removes the need for line operators to have intimate knowledge of the machines," Cama explains in the introduction to one webinar. "Instead, clear, easy-to-understand overlaid 3D renders will allow them to perform even the most complex task quickly and easily. Cama's AR solution is also vital for training, giving operators concise and realistic experience of the machine before it has even left the Cama factory."
Cama's Augmented Reality Machine Assistant (pictured) simplifies operation, changeovers and maintenance.
Cama's AR technology is now optional on all Cama cartoners, sleevers, tray packers, and case packers. AR offers simplified spare parts management, remote training and maintenance assistance, and changeover guidance. 
BluePrint Automation's Spider 100v 
BPA's Spider 100v Product Loading with Bulk Feeding uses delta style robots with vision to replace a traditional collate and load system. On-the-fly tray loading with vision allows product to be random and un-oriented.
Perfect for overwrapped products and more, the system eliminates traditional race track collation and potential jam points, packing virtually any product count or configuration.  
With the integrated bulk feeder, the system accepts product from bulk or WIP, singulating product before entering the robot.  This solution can handle cartons, cases, and shelf-ready packaging, and is great for variety packs.
The Spider 100v also features built-in product inspection.
MGS's Matrix TL Top Load Case Packer
MGS touts the Matrix TL as a complete case packing system with erect, load and seal contained in one module. With speeds up to 20 cases per minute, it has one of the fastest rate-per-footprint ratios in the market.
Built with a small footprint of less than four meters long, this machine is compact enough to fit into virtually any type of configuration in one's facility.
The Matrix TL's positive vacuum case opener eliminates case set-up failures. Other features include quick, simple changeovers and robotic product placement for hard-to-handle products. The Matrix TL is serialization-ready.