Changs' Plum Organics opens up a new world for moms and kids.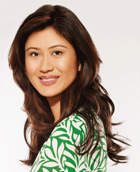 Though she is a third-generation entrepreneur, Plum Organics founder and CEO Gigi Lee Chang says she never intended to go into business for herself. But four years ago, the head of strategic planning for a top marketing and advertising agency-and new mom-noticed something different about her infant son's desire and interest in food, and she saw an opportunity.
Though commercial baby food was convenient and readily available, Chang had known she wanted to prepare meals for her son, now four, since before he was born. The decision to home cook was the product not just of a desire to provide him with the freshest, most nutritious food possible, but also to instill a love of food that would teach him to be an adventurous eater.
It wasn't long before Chang realized that a lack of time wasn't the only reason that other parents, who also lamented the lack of fresh food options for their babies, weren't home cooking for their own children.
"I started talking to my friends and trying to understand why they weren't making their own food," says Chang. "Culturally, there were other reasons beyond convenience that I began to understand. This generation, we don't really cook for ourselves anymore. So you have these moms who are questioning their ability to make a balanced, nutritious meal for their baby."
After spending more time speaking with other parents and doing research into the competitive landscape, Chang found herself inspired to launch in the space. She would offer parents a baby food made from organic ingredients and flash frozen to lock in freshness and nutrients. Chang began a "clip file" of identities, imagery and, of course, packaging that communicated the spirit and intent of brands she admired.
"I had different folders of things that I liked. I'm a person who takes cues from things and synthesizes them into something that I feel strongly about," she says. "But I'm not necessarily one to have an outlet to articulate that. So I knew enough about myself that when I saw something that I liked, into the folder it went."
Chang, armed with her folders and envisioning the direction her new venture would take, enlisted the help of brand identity and package design firm Brand Engine to bring her inspiration to life. Chang says she had a clear idea of what her as-yet unnamed new brand would represent-kids, family and food. And she knew that though products would be aimed at the contemporary mom, or "yoga momma", simply cool, crisp and modern wouldn't cut it.
"Because [Plum] is about family and kids and food, it couldn't be too "method". There needed to be a balance that recognized the accessibility and family aspects of the brand," she says. "I looked to brands like Tea Collection [children's clothing] for inspiration. They have a really great spirit that's modern, but also very accessible. That's what I wanted to try to do."
Chang describes her typical customer as a mom who wants the best for her child and is willing to pay a premium for it. She's a mom who doesn't necessarily have to be affluent, but who makes children a priority and is educated and aware of organics and appreciates what that means for her child.
"If you consider the adoption lifecycle for organics, food is really the first priority," explains Chang. "In speaking with a lot of my friends, they're eating and feeding organic food because it's going inside their child. Most of the people I know feed their children organic food, but they still use disposable diapers or mainstream detergents. It's different when it's a product that's being consumed."
Building a brand
Chang knew that, as a startup, branding and packaging would be critical to her success. Print ads and television spots would be out of reach, so impact on shelf would be a critical component of the new brand's marketing strategy.
With Brand Engine's help, the team explored a spectrum of possibilities with regard to naming. And though the more traditional, "earthy" names seemed to resonate best when potential consumers were polled, Chang's experience told her that consumers tend to flock to the familiar. Knowing she was breaking ground in a new category, Chang opted to take a chance on a name that she felt communicated the personality and spirit of her new brand, and was different from the traditional naming in the organics category. Plum Organics was officially born.
Next, the team got to work designing the packaging. Traditional baby food is found in four-ounce jars, but, being a frozen food product, Plum Organics would need to carry over the elements of functionality, and familiarity, found in jars but in a format that would work in the freezer set.
"In the freezer, if you have a four-ounce cup, no one will ever see it," Chang says. "So I knew that I needed to do a multi-pack. But how many? A four-pack delivers great billboard but at a price point that becomes uncomfortable for the consumer."
The team decided on a two-pack for its functional and price point considerations and set out to configure the pack in a way that maximized shelf presence and also properly fit the frozen food shelves at retail. "We looked at vertical packaging, but in the freezer set, things are more horizontally oriented. We knew what the form needed to be, so our challenge was to take that form and maximize the billboard, but still in a size that would fit across the shelf. Striking that balance between creating the billboard, finding a price point that was reasonable and having a footprint that would work for the shelf space was key."
Designers configured the packaging, which consists of a paperboard carton that contains two four-ounce cups of food, to be stackable. So in a normal frozen food shelf where most brands get one facing, Plum products get two.
The carton bears the Plum Organics logo on a stark white background that communicates the brand's modern, contemporary feel and conveys a sense of trust. Photography lends the warmth and accessibility that Chang desired-and features vivid color shots of the bright, colorful food on the front panel and tightly cropped images of cherubic babies on the end panels. A spoon containing the product becomes the symbol for the eating experience and reinforces the brand promise that healthy eating begins with the very first spoonful.
Because consumers would be shopping for baby food in "unfamiliar territory" (i.e., the freezer section), Chang knew that the visual cues used in the packaging design would need to effectively grab the consumer's attention and quickly identify the product.
"I was at a regional mom's fair shortly after we launched, speaking with a woman who stopped by and she said, 'Oh, you're Plum Organics, I just bought some the other day!'" says Chang. "When I asked her how she'd heard about us, she told me she was literally walking down the aisle in the store and the packaging caught her eye, so she went in for a closer look and realized it was organic baby food. She had cooked for her first child and her youngest was just starting on solids. Because she'd made her first child's food, she had an immediate understanding of what it all meant, but the packaging caught her eye."
Given the passion and vision that went into the creation of Plum Organics, it's no surprise that the future looks bright for this groundbreaking brand. Currently, Plum can be found on the shelves of more than 700 retailers, and most recently announced it will be carried in more than 200 Super Target locations nationally.
And in an effort to continue the healthy eating habits that parents have established in their infants, Chang will launch a line of kid-friendly meals in July. As it was for the initial launch, packaging will be key to communicating this new offering.
"Packaging is number one for us," says Chang. "We don't have a lot of budget to create awareness, so a lot of what we do is through the community, and we're limited there because doing things at a local or regional level on a national basis is difficult. Awareness at shelf is really our number one vehicle." BP
Name: Gigi Lee Chang
Title: Founder and CEO, Plum Organics
Years in current job: Three and a half
Where or when do your best ideas come to you? Walking to work in the morning when I actually have time to myself!
What do you consider the ultimate branded package? The iPod, not just for what it is but because it's been a game-changing product.
What's on your nightstand? Vanity Fair, a book I've been hoping to read for months, and my Blackberry