It's that time of year again. The hustle and bustle of the holiday season is upon us and not a single aspect of life is left undecorated. Every year homeowners decorate their houses, malls deck the halls and food and beverage packagers release a plethora of gift sets featuring unique packaging, intriguing combinations and special edition branded items to bring holiday cheer to the grocery aisles.
Wrapping Around the Christmas Tea
The Tea Spot announces its offer of complimentary gift-wrapping and customized note cards with purchases at its online tea store. This tea company who prides itself on their micro-batch handcrafted teas and personalized customer service is now offering customers the opportunity to send custom handwritten cards to their gift recipients—a basic etiquette which has never been more impactful and appreciated than in today's digital age. From Friday, December 6th through Sunday, December 8th, The Tea Spot's customers can select free gift wrapping on select holiday tea gifts and custom handwritten cards.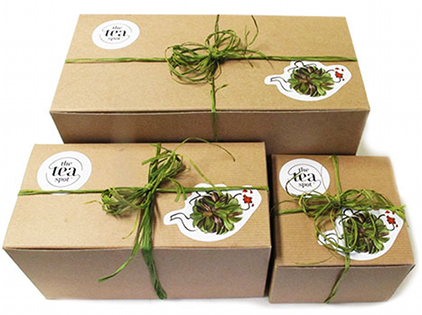 12 Days of Jerky
JerkySpot.com carries over 12 of the strongest jerky brands on the market including Black Label, Braaitime, Bulk Beef, Carnivore Candy, Dragon Wings, Jeff's Famous Jerky, Gary West, Golden Valley Natural, Buffalo Bills, Nick's Stick, Ostrim and Up North Jerky Outlet. In addition to these outstanding jerky brands, they have stocked their inventory with a wide selection of jerky flavors, types, and gift packs.
"We've been experiencing exponential growth with our business, and it has allowed us to create an abundance of Gift Packs to offer our valued customers both new and loyal. This year, in the spirit of the holidays, we have put together the "12 Days of Christmas" Jerky Sampler with a palatable selection of twelve jerky varieties for you or a friend to enjoy," says JerkySpot.com owner David Wolf. He continues, "We really covered the bases for a total taste sensation from the super spicy to a sweet melt-in-your-mouth meaty delight. We're quite sure our "12 Days of Christmas" Jerky Sampler package will be the one gift that no one will want to put down."
Baby, It's Cold Outside
If you want to give the gift of soup for those chilly winter days again, Frontier Soups has the gift packs for you. The new Holiday Soup Basket includes a choice of four soup mixes plus Frontier Soups Appalachian Trail Cornbread Mix, holiday curried cheddar chutney dip mix, and Walker's Shortbread Scottie Dog Cookies. These gourmet items are packaged in an attractive pinecone decorated container, and shoppers may add sparkle to their gift with an optional stainless steel ladle for $14.36, a 10 percent savings. "In addition to our specially priced Holiday Soup Gift, we have a variety of soup gift baskets available with a range of prices starting at $12.95 and selections that make perfect holiday gift baskets for occasions that call for anything from hostess gifts to impressing the boss," Anderson says. "With our 34 varieties of soups, stews, chili and chowders based on authentic regional American recipes, you can always find favorites that people will love."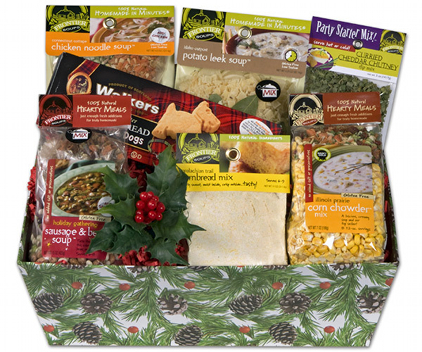 Dreaming of a Blondie Christmas
No one will be blue with the gift of blondies in Fairytale Brownies' new holiday packaging. Much thought and care is put into the design of Fairytale Brownies gift packaging. The new Wish Box and Sparkling Tower boxes are attractive and created to be used as a keepsake once the treats are gone.
"Keepsake boxes are popular with our customers," co-founder Eileen Spitalny says. "Our new brown wish box surprises you with a flood of rich purple when you open the lid. It's a box our customers will add to their collection."
The new Sparkling Tower gift is offered in 2-, 3- and 4-Box options. Adorned in gold, silver and bronze, each box bubbles with joy. The gifts are appropriate to send for any occasion worth celebrating. A full-color logo or photo can be printed on the lid of the Wish Box gifts or on the hang tag of the Sparkling Tower gifts to personalize for family or business.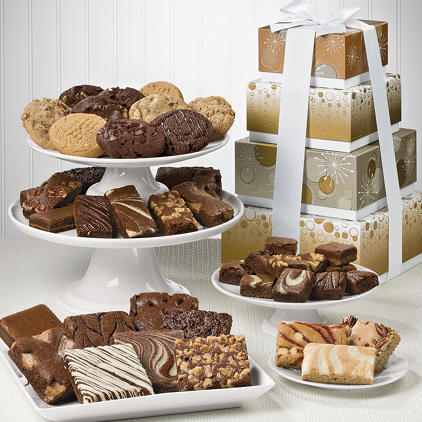 Santa Coffee's Coming to Town
Busy shoppers shouldn't forget to recharge during the holiday season, and Starbucks makes sure everyone knows that season has come with their red holiday cups. Starbucks showcases their coffee heritage in this years red cups design, which is inspired by iconic holiday imagery – coffee farms, holly berries and coffee cherries, coffee flowers and poinsettias. Simple and sincere, the design showcases what Starbucks celebrate all year long – a passion for great coffee. The red cups coincide with the release of holiday flavors both new and old. The design is also reflected on holiday coffee blends and other giftable items.